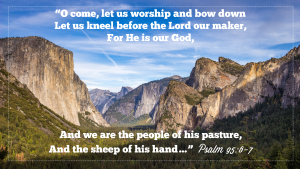 Fasten your Seatbelts!
O come, let us worship and bow down
Let us kneel before the Lord our maker
For He is our God,
And we are the people of his pasture,
And the sheep of his hand…
Psalm 95:6-7
Years ago, our family was in a major transition. I had left the church I had been serving as pastor for ten years, and had gone into full time counseling ministry. In finding a new place for our family to worship, we landed in a church in downtown Milwaukee which was entirely different in style from the beloved gothic – style sanctuary that had always felt like "church" to me. In this new church, the chairs had to be moved out into place each week for worship, because during the week the space was used for an adult day care center. So they were always in a somewhat different configuration. It seemed like a metaphor for our family's uncertain and ever-changing life… but we arrived each week with our two little girls and their big diaper bags full of books, treats, My Little Ponies, and teddy bears. It felt like we were bringing our carry-on luggage onto an airplane for a flight, situating ourselves to get ready for take-off. We didn't know where God was taking us on this flight, neither in terms of the worship service, nor in terms of our life. I always heard this voice in my head: "Fasten your seatbelts!" I assume it was God.
In that in-between time, it seemed like a good way to approach worship. God is taking us somewhere – we don't exactly know where, but the Lord is our shepherd, our pilot. In all the anxiety and uncertainty of that time, at least when we were at worship I felt that I could trust God, and that we would take off and land safely in his care, both in terms of where God was taking us in worship and in terms of where God was taking us in life. And we have taken off and landed safely in worship services and in life, many times since then!
Lord of Life is in another time of transition – with our building as we kick off the Welcome One Another initiative (look for details of the Council plan to manage this process in next month's Lifeline), the process of calling a permanent Associate Pastor and other staff changes. I suppose if we were honest we would have to say Lord of Life is always in some sort of transition; and it's all a matter of how we see transitions. It's all good, because it's all in God's care.
So, come to worship, and…fasten your seatbelts!
Grace and Peace,
Pastor Gary